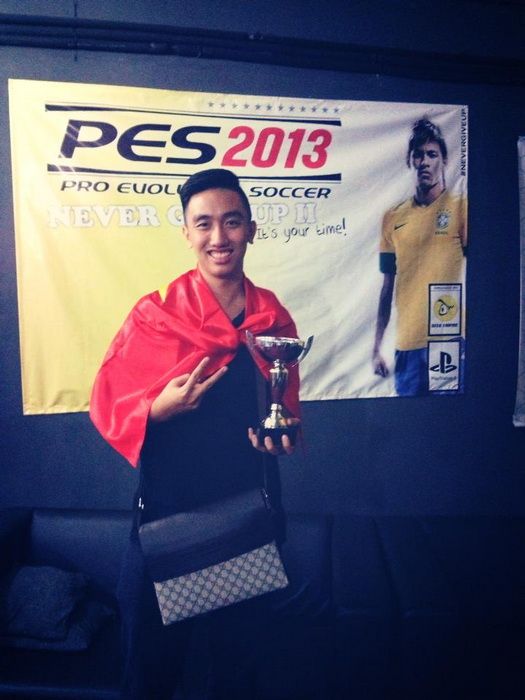 This is our interview with Quan Bi after his team won against Indonesia's PES Team. His full name is LE DO HONG QUAN, age only 18 years old and currently studies on HBUT University, Vietnam.
Congratulation for Vietnam's win, bro! Do u often to participate in offline tournament?
Yes, I do. I often participate in offline tournament in Hanoi. It's Pes.vn Premier Cup.
Do u spend special time to practice PES? or just playing casual with others?
No, haha, I just playing casual with my friend. Sometime I play with Vietnam Team's Member or my teammate who are member of my team, 1st JoIN Gaming.
This is ur first abroad event (outside Vietnam)?
Yes, this is my first abroad event. Especially this is a big event which is a challenge of two nations, Vietnam and Indonesia.
How do u prepare urself for the event (Indo-Viet) and How do u feel about the tournament? The atmosphere, the tense within Viet team? and ur personal feeling meets with other national players?
I just played and trained hard before this event with my teammates in Vietnam Team. I trained my skills, my tactics, think about some formation which I will have a good match with Indonesian Player. I will never forget the feeling of this challenge. Everything just so exciting. This feeling that I never have before.
Speaking of players, who is the toughest player in Indo's team? Why?
It is too hard to say who is the toughest player in Indonesia Team because everyone is so good and have perfect skill, especially dribble skill and teammate control skill. But i very impressed with Kifily. He is a good Indonesia Player. His dribble skill is very special that i hadn't seen before.
Do u hav something to say about the event? or maybe wishes for next event? either it official Konami or not
I wish we can meet up in next event, I think next summer, challenge with PES 2014. Or maybe we have some competion of Pes for all nations in ASIAN. Maybe ASIA PES CUP like some football competion!! It will be exciting and interesting and however, bring a national kit to challenge will have a special feeling.
Wishes for Asian WE/PES community? and maybe Indonesia community specificly?
I hope Asian WE/PES Community will have more country member and from this Community. We will have a lot of friend and a lot of chance to challenge Pes with member of another country.
Do u wish to come and attending one of Indonesia PES's tournament?
After this event with Indonesia Team, I know Indonesia's Community is a good community and Indonesia is a country with have a lot of member who love Pes. If i have chance, I really want to come and attending one of Indonesia PES's tournament.