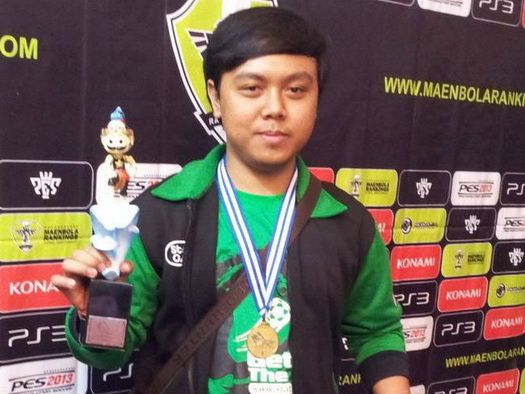 How are u, Ric? I think this is the latest abroad event right? So hows the prep to compete with Vietnam?
Im fine, thank u, and yes this is the latest abroad event and my second time to attend a tournament outside Indonesia. Yes we have a casual prep by practising and seeing video from youtube.
And how all friends in the team prepare themself?
Yes they are also preparing well altough we have a very short time to prep
Tell us a bit, about how is the situation there? the place, the atmosphere that u and the team felt at the KL and the venue?
The venue is quite nice and comfort, when we come on the first place is very quite, hehehe. Just before evening the place is more loud and also tense, there are Malaysian player who come to watch the matches
We all knew that Indonesia had lost, can u tell us why Vietnam can do this come back despite Indonesia team already lead 2-0
For Indonesia's lost we all feel disspaointed, but we have try best what we can do in the match, but the results said everything, tragically we lost thru Vietnam's coming back and final score 2-3. Maybe after we lead 2-0, we kinda loss concentration on round 3 by play easy against our opponent, and Vietnam take this advantage and overcome the situation.
What went wrong? Is it because the strategy? or is physically tired?
The cause of Indonesia lost is on the round 3, We didnt strategize our player list well and playing easy with the opponent, because we already feel won after 2-0 lead easily. On round 5, we also feels our stamina already drop, because we still playing on 3am in the morning, so I think everyone feels exhausted.
Who do u think the strongest player in Vietnam's team? and why?
Almost all Vietnam player's mentality is high, and maybe this one player that cause Indonesia lost, and yes he is, that player is QuanBi. He has character that so hard to be beaten, and what impressed me that he can read all opponents's playing character. Altough Indonesia's player has so many kind of character in terms of playing, QuanBi can read all Indonesia's player playing.
Is there something u want to say to Vietnam's Team? or to all Asian community?
To Vietnam, I would like to say congratulation for the winning, we might want fight back our losses in the next matches; To all asia community, I wish we can invite not only 2 country to participate, but we can invites all ASEAN countries, so it will be more exciting and pretigious event either.
Saying something for PES/WE Indonesian community, who might want to be like you and friends in Indonesia team right now?
I hopes with today Indonesia's lost, we can experience and learn something precious for the team, and for Indonesia community, it will treat as a leverage to keep increase our player's skills in the national level and international. Because compete in a tournament outside Indonesia, great skills is not enough, but u need a strong playing mentality.